Filed Under: Economy, Featured, Featured Local, Iowa, Iowa Economy, Iowa General Assembly, Iowa Politics

Print This Post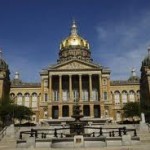 Below is a brief overview of a bi-partisan initiative that is set to be brought to the floor of the Iowa Legislature when it gavels in next session.  Once it is brought to the floor I will publish a more detailed look at it.  As noted on Wednesday, Sen. Brad Zaun, Rep. Ako Abdul-Samad, and Rep. Kevin Koester have already signed on to support the measure and it will be interesting to see the reaction from both sides once the session starts.
———————————————————————————————
The Every Iowan Economic Empowerment Act or The Empowerment Act takes advantage of our state's strengths in two ways.
I. Rewarding Hard Work & Sacrifice Provision
The first component of The Empowerment Act rewards the hard work and sacrifice of Iowans by …