Filed Under: Featured, Gay Marriage, Iowa General Assembly, Iowa Marriage Amendment, Iowa Politics, Iowa Supreme Court, Taxes

Print This Post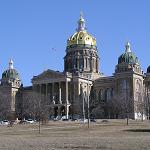 So, the leadership of the Iowa General Assembly are again hoping to end the session this week.  From their standpoint, I think they hope to finish up the budget, pass the repeal of Federal Deductibility, and avoid any more discussion about a Marriage Amendment to the Iowa Constitution.
It might be a bit of a challenge.
The next three days, various groups will be descending on the Iowa Statehouse, and you can join them.
Monday, 11:00 AM to 1:00 PM: Protest of the Supreme Court Decision regarding Gay Marriage:
West side of the Iowa Capitol Building, Des Moines
Please dress warm.  In case of rain, go inside the Capitol.
Participating Organizations:
Everyday America
Iowa Christian Alliance – Norm Pawlewski
Concerned Women of America – Tamara
…