Filed Under: Featured, Gay Marriage, Iowa General Assembly, Iowa Politics, Iowa Supreme Court, Republican Party of Iowa, Taxes

Print This Post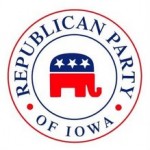 The following is Republican Party of Iowa Chairman Matt Strawn's most recent Chairman's Report.  – Ed.

~ ~ ~ ~ ~
A personal note from the Chairman:  please keep Bob, Darla, and the Vander Plaats family in your thoughts and prayers over the Easter weekend as they continue to mourn the loss of Bob's father who passed away this week.
~ ~ ~ ~ ~
Governor Culver flips his position on Same Sex Marriage and sides with the Iowa Supreme Court.
After 100 hours of silence, Iowa Governor Culver finally broke his silence on the Supreme Court's decision to strike down Iowa's law that defines marriage as the union of one man and one woman.  While his statement was carefully written and would have done …