Filed Under: 2012 Elections, Featured, Featured Local, Government, Iowa General Assembly, Iowa Politics

Print This Post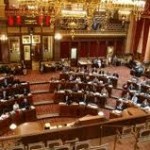 Over the past several weeks we have taken an in-depth look at each of the 8 Iowa Senate races TCR: Iowa has deemed as leaning either Republican or Democrat.  From now untill election day we are moving on to take a closer look at the 5 Senate races we feel will determine control of the Iowa Senate–and hence control of the Iowa Legislature for the next two years.  These races crucial for control are SD 49, SD 48, SD 36, SD 30, and SD 26.
In addition to looking at these 5 races, on November 4th we will look at the districts where Republicans blew major oppurtunities and therefore are not competetive, and on November 5th we will provide a guide for what to watch for on election night.
Here is a compilation of links to the 8 Senate Leaners we have covered:
Senate District 14 – Amy Sinclair (R)  vs.  Dick Schrad (D)
Senate District 22 – Pat Ward (R)  vs.  Desmund Adams (D)
Senate District 8 – Mike Gronstal (D)  vs.  Al Ringenneberg (R)
Seante District 42 – Rich Taylor (D)  vs.  Larry Kruse (R)
Senate District 38 – Tim Kapucian (R)  vs.  Shelley Parbs (D)
Senate District 24 – Jerry Behn (R)  vs.  Shelly Stotts (D)
Senate District 44 -  Tom Courtney (D)  vs.  Bradley Bourn (R)
Senate District 46 -  Shawn Hamerlinck (R)  vs.  Chris Brase (D)
About the Author
Mr. Arnold is a long time constitutional conservative. He holds a Bachelor of Arts Degree in English Literature from the University of Iowa. Over the last few years he has been involved in numerous political campaigns, most recently serving as campaign manager for an Iowa House candidate and serving as a city chair for Tom Latham. He is self-employed, running a small business in Ankeny, Iowa where he resides with his wife.
Sorry, comments for this entry are closed at this time.