Filed Under: Featured Local, Government, Iowa, Iowa General Assembly, Iowa Governor, Iowa Politics

Print This Post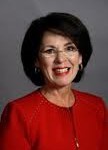 Iowans all across the state were shocked and saddened this morning by the news that Senator Pat Ward had passed away after losing her battle with breast cancer.  She had served as a Republican in the Iowa Senate since 2004 and was an extremely respected woman and legislator.  The following are statements released by Governor Branstad, Lt. Governor Kim Reynolds, and Republican Party of Iowa Chairman A.J Spiker, and TCR Publisher Art Smith.
All of us at The Conservative Reader pass on our sincere condolences to the Ward family. Â She will be missed.
         **********************************************************************
Governor Branstad
"I was with shock and sadness that learned of my friend Pat Ward's passing. She had a wonderful career in public service, and was such a caring and passionate person. As a senator, she was a champion for her district, took the time to get to know the issues, and worked in a bipartisan manner to enact meaningful legislation on behalf of her constituents. She always had a positive outlook on life, even in illness, and her smile would brighten each room she entered. The thoughts and prayers of Chris and I are extended to her large network of family, friends and constituents."
Lt. Governor Reynolds
"Having served with Pat in the Senate, I witnessed firsthand her dedication to the state of Iowa, and her incredible work every day on behalf of her constituents. Pat Ward was a dear friend, and the news of her passing is incredibly difficult and painful to hear. I hope all Iowans will look at her example, the way she cared for others and worked to make the world a better place, and remember her significant life and achievements. Our administration will miss her as a policy maker, and we all will personally miss her as a friend."
RPI Chairman A.J Spiker
"I am saddened to learn of the passing of Iowa State Senator Pat Ward. Public service and dedication to the people of Iowa were hallmarks of her career. On behalf of all Iowa Republicans, I would like to express our gratitude for Pat's service to the people of Iowa. Our thoughts and prayers are with Pat's friends and family during this difficult time."
TCR Publisher Art Smith
"Pat was a kind and dedicated woman who was always interested in hearing the opinions of others, especially her constituents.  During my brief opportunities in speaking with Pat, I found her to be charming and very well informed on the issues.  As my senator, I was surprised that she not only remembered me whenever we crossed paths, but on our first acquaintance quickly connected me to a single letter I had written her in the past.  I sincerely admired her person-ability."
About the Author
Mr. Arnold is a long time constitutional conservative. He holds a Bachelor of Arts Degree in English Literature from the University of Iowa. Over the last few years he has been involved in numerous political campaigns, most recently serving as campaign manager for an Iowa House candidate and serving as a city chair for Tom Latham. He is self-employed, running a small business in Ankeny, Iowa where he resides with his wife.
Sorry, comments for this entry are closed at this time.