Filed Under: 2012 Elections, Elections, Featured, Featured Local, Iowa, Iowa Congressional Delegation, Iowa General Assembly, Iowa Politics, Iowa Republicans

Print This Post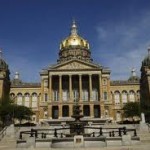 While the direction of the Country will be decided at the top of the ballot this November, the epic struggle for control of Iowa's political landscape will be decided down ballot.
Of all the races taking place across the state, the long blocked agenda of Iowa Republicans is only two Senate seat gains away from being able to be implemented.  Since the Iowa House is in no danger of flipping—the fate of this agenda lies in the Iowa Senate's 26 open seats.
While anything can happen in these legislative races between now and November, this following analysis reflects where they stand today.  Here is how we get from the 26 Senate seats up for grabs down to the 5 that will determine control of that chamber—and hence political control of Iowa for the next two years.
First things first: From 50 to 26 to 22
From 50 to 26— There are 50 seats in the Senate and all even numbered districts are on the ballot this year plus SD 49, which holds a race for a two year term before going back on the ballot in 2014.  This means that there will be 26 seats in play, with the Democrats starting with an advantage due to having 13 of the hold over seats to the Republicans 11.
From 26 to 22— Of the 26 races, Republicans have fielded a candidate in all of them while the Democrats have let four seats go unchallenged (SD 2, SD 10, SD 12, and SD 20).  This takes us from 26 possible races to 22 that will actually take place.
From 22 to 13— Of these 22 races, nine heavily favor* one party or the other.  Four favor the Republican candidate (SD 40, SD 28, SD 6, and SD 4); while 5 favor the Democrat candidate (SD 50, SD 34, SD 32, SD 18, and SD 16).
*Note: This analysis is largely based on the past history of communities making up the districts, registered voter advantages, and money raised and on hand for each candidate.  In all likely and leaner districts there are more than enough registered Independents to technically make up R and D registration advantages.
The Battle Field
From 13 to 5— This leaves 13 races left which will be heavily contested and which will draw the attention of, and funds from, the state political parties.  Of these, I see five leaning Republican and 3 leaning Democrat– for Republicans they are SD 46, SD 38, SD 24, SD 22, and SD 14, and for Democrats they are SD 44, SD 42, and SD 8.
Of note here is that, for the time being, Senate Majority Leader Mike Gronstal is given SD 8 over Al Ringgenberg.  Also, the best shot for Republicans in these Democrat leaners are SD 42 and SD 8, while Democrats look to have the best chance in SD 46 and SD 38.
The Final 5
The remaining 5 races can truly go one way or the other and are absolutely critical for control of the Iowa Senate.  They are SD 49, SD 48, SD 36, SD 30, and SD 26.
Here is a recap of how we got there:
                                                                    Republicans          Democrats
                        Hold Over Seats                        11                         13         
                        Uncontested                               4                           0  
                         Likely R or D                             4                           5  
                         Lean R or D                               5                           3                                                     
                                                              ——————————————                                                              
                                                                           24                         21
Going Forward
As you can see from above, assuming my "likely" and "lean" numbers hold true, Republicans are in great shape to take the Senate as they only need to win 1 of the "final 5" races to tie and only 2 of the 5 to gain outright control.  Conversely, Democrats would have to win 4 of the "final 5" for a tie and would need a clean sweep to retain control.
Two interesting facts here are that all the big action is in Eastern Iowa, which is home to all 5 of these decisive races, and that 4 of the 5 are contained in U.S Congressional District 1.  This is further good news for Republicans as Ben Lange is a great candidate who seems to be gaining steam against a sputtering Bruce Braley.
In the coming weeks The Conservative Reader: Iowa will be featuring interviews with Republican candidates from across the state.  Additionally, we will be taking in-depth looks at the 8 races which will be highly contested and the 5 that will be utterly critical for taking the Iowa Senate.
The voters in these 13 districts will ultimately answer the questions of how much property tax relief we receive, what reforms are made to our declining education system, and whether Iowa will set up health insurance exchanges for Obamacare.  One thing I have no question about is that these districts are where the battle for ideological control of Iowa will be won or lost.
About the Author
Mr. Arnold is a long time constitutional conservative. He holds a Bachelor of Arts Degree in English Literature from the University of Iowa. Over the last few years he has been involved in numerous political campaigns, most recently serving as campaign manager for an Iowa House candidate and serving as a city chair for Tom Latham. He is self-employed, running a small business in Ankeny, Iowa where he resides with his wife.
2 Comment(s)
John Deeth | Aug 30, 2012 at 7:42 am | Reply

Not bad, not bad… I'd give the Dems better chances in Districts 4 and 6, since the weaker GOP candidates won those primaries. I'd also list 36 as leaning D, again because the weaker Republican was nominated.

It's remarkable that Mike Gronstal's race has dropped from the top tier. Ringgenburg has proven to be a much weaker candidate than expected, especially at fundraising.

Annie Bonneau | Sep 13, 2012 at 7:54 am | Reply

Come on Eastern Iowa….we need you this year more than ever!
Sorry, comments for this entry are closed at this time.