Filed Under: 2012 Elections, 2012 Iowa Caucus, 2012 Presidential Election, Elections, Featured, Republican Party of Iowa, TCR Main Site Post

Print This Post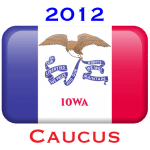 We will have results of tonight's caucus available here at The Conservative Reader as soon as the information is available from the Republican Party of Iowa.  We will have a Google map setup showing the results in near-real time as results are tabulated starting at 6:00 PM.  Be sure to attend your caucus, then check in with TCR for caucus results tonight and analysis on Wednesday.
About the Author
Mr. Smith is a Systems Architect for Wells Fargo, and a political blogger at the Des Moines Register, and is the Publisher of The Conservative Reader. Art's views are purely his own and do not necessarily reflect the views of Wells Fargo.
Sorry, comments for this entry are closed at this time.