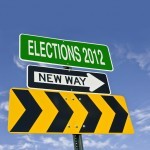 [1]On Tuesday, Ron Paul opened what he said was his first campaign office in the country [2] in his race for the 2012 Presidential bid.  Justin Arnold will have a report on the congressman's visit later today.
Right now I'm more interested in what's happening in the background.
Three members of Paul's Iowa campaign team, Drew Ivers, David Fischer, and A.J. Spiker, are all also members of the Republican Party of Iowa Central Committee. [3]
You might ask why I care.
During Primary and Caucus season, the role of the party should be to provide the members of the party a means to select candidates and act as an impartial facilitator.  The party is responsible for establishing and managing the selection process for caucuses (the county auditors actually run the primary voting process), and the members of the party should expect that the process and campaigns for caucuses and primaries will be carried out fairly.  As I've had opportunity to see this process close-up with Polk County and Iowa Republicans over the past few years, I've been impressed by the priority given not just to being fair, but ensuring that there was never an appearance of being unfair.
Drew, David and A.J. (and let's not forget Wes Enos who is working on Michelle Bachmann's campaign) are all worthy of respect, and I don't want my comments to be misunderstood to be a charge of unethical behavior… they are not.  I am convinced that these are all men of integrity.  I am also convinced that both Paul and Bachmann are candidates that I can support.
The by-laws and constitution of the party do not prohibit this level of involvement.  Technically, these gentlemen have done nothing "wrong".
My concern lies solely in the appearance of something untoward.  As one friend put it, "It doesn't pass the smell test."
The Republican Party has been struggling for a number of years to shake off the "good-ole boy" image that gave the appearance that a small group of leaders were wielding enormous power and, among other things, manipulating the process to get "their guys" on the ticket.  Avoiding this image should be a continued goal of party leadership.
The appearance of a conflict of interest will undermine the confidence of party members, and draw fire from outsiders.  These committee members have the ability to influence party decisions, acquire planning information early, or to stand up for a candidate and appear to be speaking on behalf of the party.  How does it look any different than when these actions take place in reality?
The fact is, it doesn't.
Kevin Hall at The Iowa Republican agrees [4].  The writer of Under The Golden Gnome agrees [5].  I've heard from three Central Committee members who agree, and I'm sure that David Chung, who went to the effort of resigning from the Central Committee while he served on Christian Fong's campaign, also agrees [6].  Those who I've spoken with personally in various settings have generally been perplexed by what they see as, at best, a less than satisfactory situation.
Frankly, both Ron Paul and Michelle Bachmann would be well served by folks that can publicly make the same choice and sacrifice that David Chung made.  Seeing people whose sense of right and wrong is so strong that they step aside to ensure there is no appearance of impropriety has the potential to generate support from folks that might otherwise be indifferent.
Not to mention the benefit to the men themselves.  To this day, I still find people who are in awe that David Chung made the decision he made.  Some have said that he showed us how it's done.  It is hard to see how making this choice can hurt one's appearance in the eyes of others.
I sent an email to the Central Committee on Saturday conveying my thoughts about the situation, and encouraging Drew, David and A.J. to step down from the Central Committee.  At the time, I was not aware that Wes was working on the Bachmann campaign, but I followed up when I discovered that fact and assured them my sentiments applied to Wes as well.  I've included the email contents at the end of this article.  This Saturday, the committee will be meeting to work on planning around the Straw Poll, and may end up discussing this topic as well.  If you are a Republican and feel strongly about this issue, you might want to contact the members of the committee this week to voice your thoughts.  Their email addresses are found at the Republican Party of Iowa's web site [7] (Craig Williams email address is incorrect as of this writing… the correct address for him is [email protected] [8]).
With regard to the by-laws and constitution of the party, and the lack of prohibition of this conduct, I don't see a need for such a prohibition.  If everything that might seem inappropriate had to be documented in the by-laws or constitution, the documents would be hundreds of pages long (and no one would read them).  Besides, it's better to do the right thing because it's right rather than because the rules force you to, don't you think?
To the members of the Republican Party of Iowa Central Committee,

I hope you are all well and enjoying the beginning of another exciting Presidential Campaign!

I was disappointed to discover that three members of the state party's Central Committee are serving in leadership on Ron Paul's exploratory committee, and furthermore allowing press releases to be published highlighting the fact.  The message this sends to Iowa Republicans seems inappropriate, as it may appear that the party is already endorsing Paul before the caucus.

Perhaps we might believe that since Messrs. Ivers, Fischer and Spiker were already known to be supporters of Paul when they were elected to the Central Committee that there is no reason for concern.  However, I think it is unlikely that delegates, who deservedly have  a high regard for each of these committee members, thought that they would see the party's representative leadership team portrayed so visibly promoting a particular candidate.

There is no concern in my mind about the integrity of these three individuals, as I have a great deal of respect for all of you.  I've worked side-by-side with David Fischer here in Polk County and we have even discussed this topic in the past.  My concern is about the appearance of favoritism by those who have some ability to influence: decisions regarding who may participate in party events,  what information is made available to campaigns at any given time, or any sense of how a good Iowa Republican should caucus in 2012.

I've watched this past two+ years as the party has worked hard to ensure that the primary process, and convention process, were run as fairly as possible, and am reminded of the decision made by David Chung in the last primary to step down from the Committee to ensure there was no appearance of a conflict of interest while he served on Christian Fong's campaign.  These actions have had a factor in helping to rebuild the image of the GOP in the eyes of many, and it would be sad to lose ground in this area.

Drew, David and A.J., I encourage you to consider stepping down from the Central Committee while you are working on Paul's campaign.

Best Regards,

Art Smith