Filed Under: Featured, Gay Marriage, Iowa Politics, Web Sites

Print This Post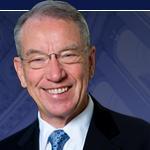 Chuck Grassley will be conducting a townhall type of event this afternoon (3:30 – 4:30 PM Central Time) using Twitter.
I don't have any idea how this is going to work.  Evidently, Chuck is way ahead of me.
I'm not saying I lack the technical savey to engage in this event… I just need some clarification on how to properly engage in this.  I have twitter.  I actually use it to follow a number of twitter sources, and I provide updates occasionally as well with the tool.  I even have tweetdeck running on my computer at home.  And I think I've done the "@" function at least once (to send a direct message to someone).
At any rate, the event is being provided by impromptu studio and the #dmtweetup group.  The video below (which will only be live during the event) will probably provide instructions.  If I have a chance to update this post to explain, I will.
About the Author
Mr. Smith is the Publisher of The Conservative Reader. He is Partner/Owner of Ambrosia Web Technology as well as a Systems Architect for Wells Fargo. Art hold a degree in Computer Science from Drake University in Des Moines, Iowa, and is a political blogger at the Des Moines Register. Art's views are purely his own and do not necessarily reflect the views of Wells Fargo.
Sorry, comments for this entry are closed at this time.